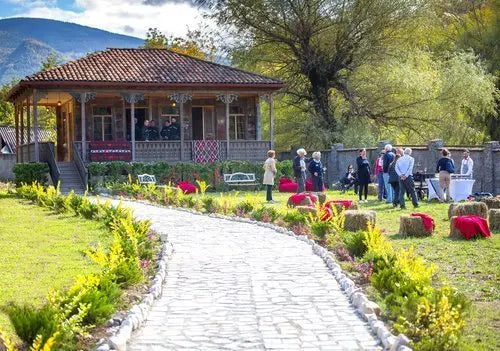 Racha - Western Georgia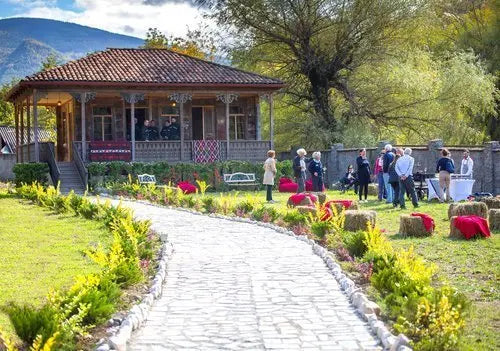 This famous vineyard is based high up in the hills of Racha, Western Georgia. Racha is an exceptional place in the history of Georgian viniculture and viticulture. Over the centuries, the Rachan people worked day after day to perfect their grape varieties as well as their methods of vine cultivation and winemaking.

In the 1870s, two Racha noblemen, the Kipiani brothers, gathered together all the ancient and local traditions of winemaking and vine cultivation, and started to make the legendary Kipiani wine, which was made from Aleksandrouli grapes. Their wine soon gained a reputation, not only in Georgia but also throughout the Russian empire. This infamous semi sweet red wine renamed Khvanchkara which was a blend of Aleksandrouli and Mujuretuli grapes.

In 2015 Royal Khvanchkara was founded on the site of the original Kipiani winery. Its main challenge was to revive the rich culture of Rachan winemaking and preserve the knowledge and experience that had been gained over the years, as well as introducing modern and innovative winemaking ideas.

The vineyards of Royal Khvanchkara cover 18 hectares over five Rachan villages. The location of the vineyards is ideal for the ancient local grape varieties – Aleksandrouli, Mujuretuli, Usakhelauri and Tsolikouri. Mild temperatures, humidity, crystal clear air and many days of sunshine further define the unique taste of Royal Khvanchkara. The wines produced by Royal Khvanchkara are of outstanding quality and are highly appreciated by connoisseurs and enthusiasts all over the world.